Steeped in the western culture and home to a surprising array of nightlife, unmissable eateries, and famously friendly locals: Calgary is truly one of Canada's hidden gems and the jewel of Alberta.
The largest city in the province of Alberta, you can expect to find a range of shopping opportunities, including everything from sprawling malls to cute boutiques, as well as great cafes specialising in single-origin brews.
So you can shop 'til you drop then refuel with a steaming cup of the good stuff in one of the city's undeniably hip coffee spots before heading out for a taste of Calgary's vibrant music scene.
All you need now is the perfect place to stay, so we've curated a list of unique and stylish hotels from quaint and cozy boutiques to sleek highrises, here are the best cool and unusual hotels, for you to choose from (in no particular order)...
1. Hotel Arts
– a cool, funky and Instagrammable fun central hub with an inviting pool perfect for partying Millenials and Gen Zs
Opening its doors in 2005, this contemporary boutique hotel opened with a forward-thinking and design-led view in mind – one which not only matches Calgary's progressive character but which is evidenced throughout its chic and modern interior.
Since then, Hotel Arts has continued to forge lasting bonds with the local art community, making it a firm feature on the Calgary cultural scene.
Offering fabulously personalised service, Hotel Arts is famed for its cool and laid-back vibe set against a gorgeous, high-end décor.
Whether you're in Calgary on business, a friends' getaway or a romantic retreat, Hotel Arts serves as the perfect quirky base from which to explore Calgary.
So, swim a couple of lengths and then grab a drink from the poolside bar, or simply unwind in your spacious, fully equipped room whilst soaking up the views of the city skyline.
2. Hotel Le Germain Calgary
– an ultra-stylish modern retreat with a rooftop terrace, funky bar and enviable vistas in the heart of downtown Calgary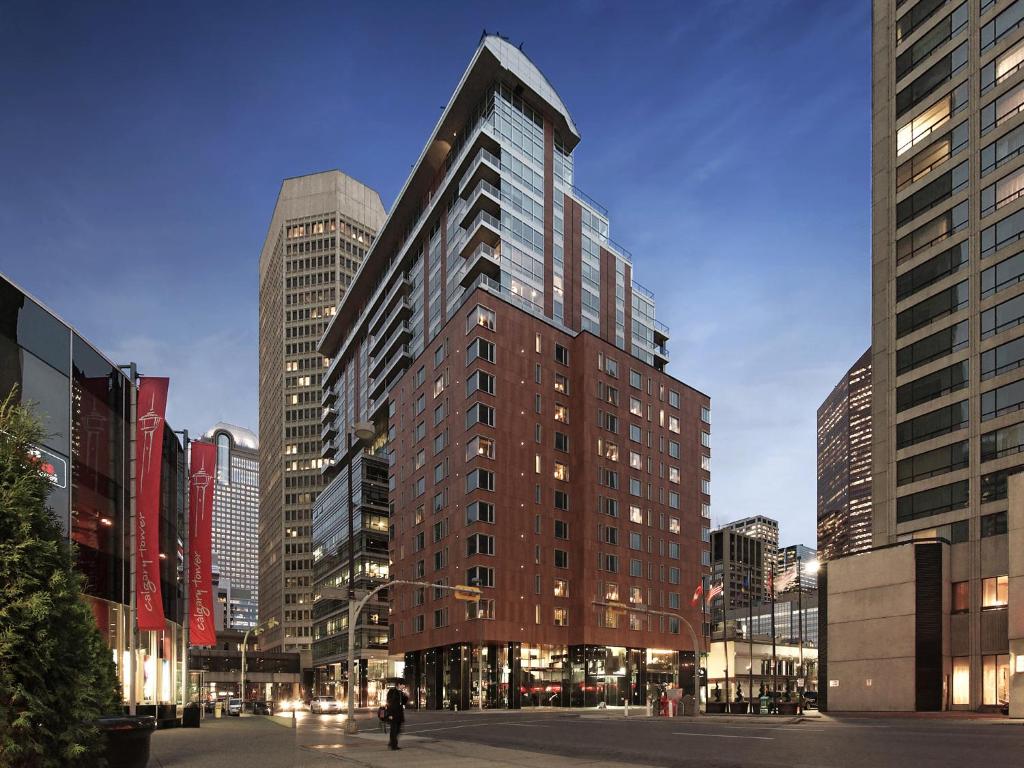 Across the street from Calgary Tower is the modern, upscale Hotel Le Garmain Calgary: a sleek and imposing building boasting 143 cool and contemporary rooms with goose-down comforters, minibars and Nespresso coffeemakers.
If you're looking for a chic boutique hotel experience with a modern edge, then Hotel Le Germain is a great option. Add in its first-rate sustainability credentials and it's no wonder that the hotel remains a firm favourite among Calgary visitors.
An ultramodern fitness room also features panoramic city views, and the tranquillity of the in-house RNR Wellness spa offers the perfect spot to unwind after a memorable day exploring downtown Calgary.
The hotel restaurant, the CHARCUT Roast House, offers fresh local cuisine with a special Italian and French flair, whilst the lobby lounge offers an exuberant vibe – especially during happy hour! Or, head up to the 2000-square-foot rooftop terrace, from where you can take in the lively surrounding urban atmosphere.
3. Hotel Arts Kensington
– a striking luxury design hotel close to Calgary Tower offering an in-house restaurant alongside chic and uniquely designed rooms
Arriving at Hotel Arts Kensington, visitors will a get taste of Canadian hospitality with a warm welcome to this charming boutique hotel with a quaint and cosy atmosphere.
Offering just 19 thoughtfully decorated guestrooms and suites, the emphasis here is on local art and individuality – a feeling which extends to its popular onsite restaurant, the Oxbow, where diners are treated to a sampling of tasty local produce, including a multi-course a la carte brunch that draws in both guests and locals alike.
Set in a prime location overlooking the Bow River and boasting with downtown skyline views, the city always feels as though it is within easy reach, whilst the hotel itself offers peace and tranquility more akin to a country escape.
4. Hotel Blackfoot
– a quirky-chic modern boutique hotel just moments from some of Calgary's top attractions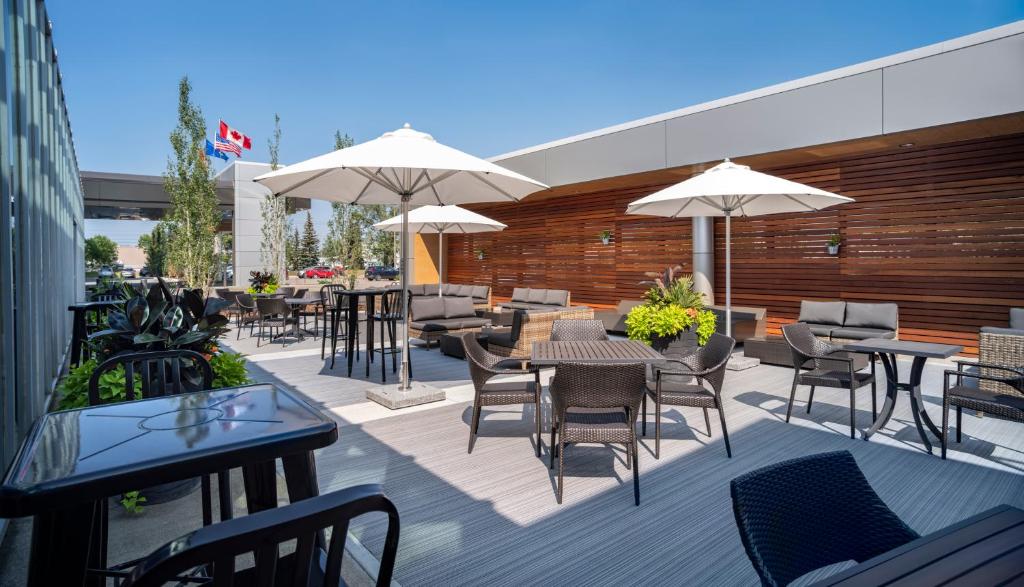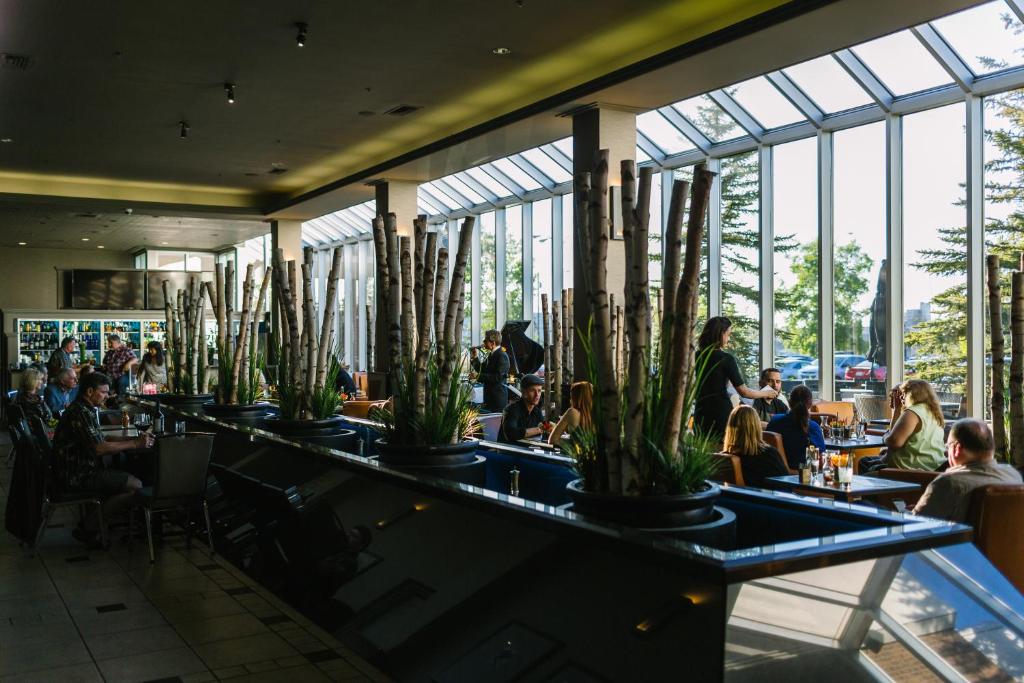 The vibrant and unusual Hotel Blackfoot is ideal for those looking to stay close to the main draws of Calgary whilst enjoying all of the high-end amenities one would expect from a four-star retreat.
With 193 contemporarily furnished, beautifully finished rooms, luxurious bathrooms, ergonomic workspaces, and an outdoor pool bar area just too tempting to pass up, the cool boutique hotel strikes the perfect balance between form and function; style and substance.
Boasting no less than three dining options serving a range of differing cuisines, there is sure to be something for everyone to choose from.
Once you've had your fill of fresh and tasty food, you need go no further than the onsite entertainment venue to enjoy a comedy show, play a game of pool, or sip a cocktail in the atmospheric bar area.
5. Delta Hotels Calgary Downtown
– an eco-friendly hotel hideaway featuring comfortable rooms just a 5-minute walk from the impressive Bow Skyscraper
Close to both the city centre and the scenic trails which run along the beautiful Bow River, Delta Hotels Calgary Downtown boasts a perfect location – but that's not all.

This pet-friendly hotel is also a haven of tranquillity, offering its guests everything from a perfectly appointed fitness centre – which includes an indoor pool, yoga room and specialised classes – to a restaurant and public house serving up the very best of Alberta, including the famous local Stargazer Ale.

The hotel's cool and modern interior is filled to the brim with unusual, memorable touches, making it ideal for those looking to stay somewhere chic and contemporary which nonetheless retains its own unique character, whilst the striking exterior makes the building a feature of Downtown Calgary.

With plenty of quiet workspaces and lively places to unwind, Delta Hotels Calgary Downtown offers the best of both worlds.
6. Grey Eagle Resort – a modern, design-led hotel filled with high-end amenities and a host of entertainment options
Whether it's sampling the selection of dishes in the restaurant, working up a sweat in the gym or unwinding in the outdoor hot tub, Grey Eagle Resort offers something for everyone – and all amid a sleek and gorgeously finished interior complete with cosy ambient lighting which lends to the overall welcoming vibe.
Each room has been carefully furnished, decked out with all the modern conveniences you could need during your stay; including ironing facilities, satellite TV, and lush pillow-top mattresses complete premium bedding and linens.
Guests can start their day off right with a dip in the luxurious pool before indulging in the expansive buffet breakfast or treating themselves with a relaxing massage.
Or, for something truly special, why not head out to the spellbinding Rocky Mountains, which are within easy reach of the hotel, for an unforgettable day trip?
7. Along River Ridge – a cute and quirky
bed and breakfast nestled on the banks of the Bow River
This quaint bed and breakfast offers its guests the perfect place to escape the everyday hustle and bustle and relax amid the tranquillity of its peaceful surroundings and in the comfort of its cosy guestrooms.
Located just off the TransCanada Highway, Along River Ridge provides a scenic retreat alongside the banks of the Alberta's iconic Bow River, as well as easy access to a variety of other natural attractions.
Celebrating over 25 years of excellence, Along River Ridge prides itself on its eco-friendly status: one which sees the hotel attempt to operate in harmony with the beautiful nature which envelops it.
Guests can expect a warm welcome, quirky yet clean and comfortable rooms and a relaxed atmosphere.
Lose yourself in a book down at the water's edge, soak away the stress in the outdoor hot tub, mingle with other guests over a game of pool, or simply enjoy the quiet from the sanctuary of your charmingly decorated bedroom.
The best bit? Downtown Calgary is still within reach of this cute boutique B&B!
8. Westmount River Inn – beautiful boutique guest house with chic modern furnishings close to Calgary's centre
Just a few minutes drive from the glass Bow skyscraper and overlooking its namesake river, you will find this spacious, clean and painstakingly finished guesthouse.
The Westmount River Inn is chock-full of cool and unusual details, elevating it from your average hotel and ensuring a quirky, personalised stay with a real boutique feel – you'll even be able to enjoy fresh home-cooked meals lovingly prepared by your hosts!
Each of the six rooms includes everything you could need for a comfortable stay in your home away from home and the common areas provide shared amenities including an expansive library collection, a flat-screen TV, bowling and cycling.
The property is also conveniently located for access to the best local hiking spots and there is a free car park on-site, meaning guests can visit the gems of Kensington district as well as other highlights of Calgary with ease.
9. Applause Hotel Calgary Airport by CLIQUE
– a hip luxurious modern hotel just minutes from Calgary airport with rooftop hot tubs, lively bar and stylish rooms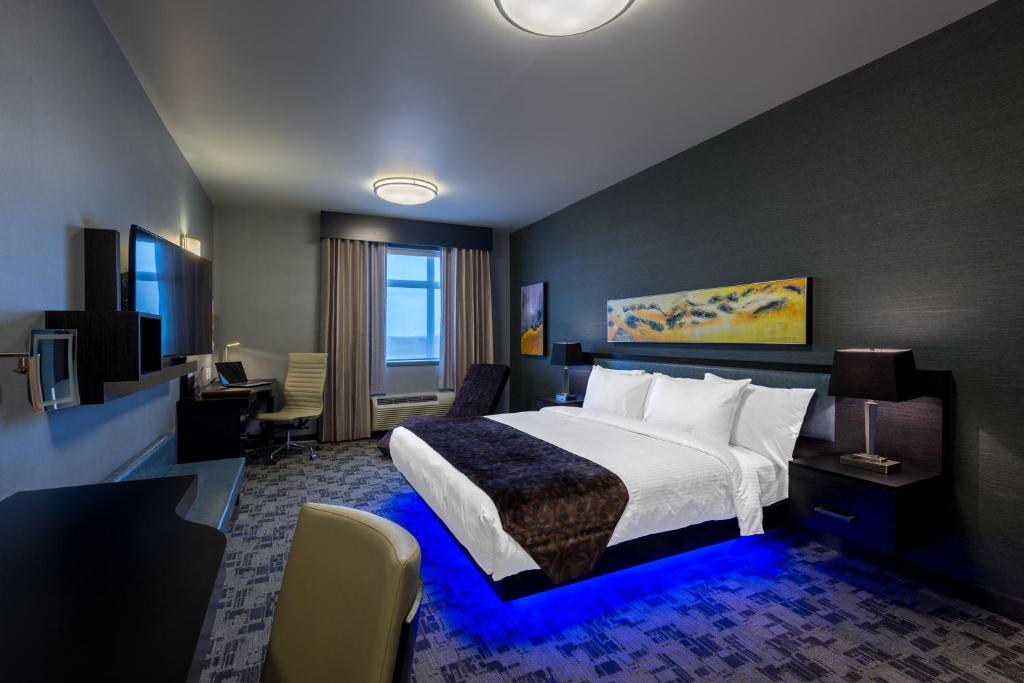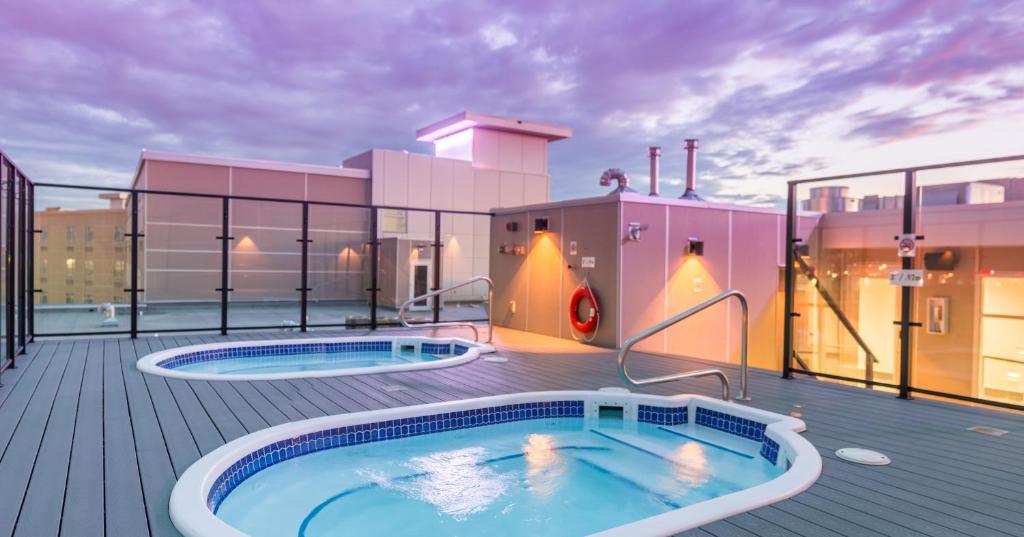 Featuring a modern and elegant design, Applause Hotel delivers an exceptional experience for discerning business and leisure travellers alike thanks to its clean and comfortable rooms, fully-equipped fitness centre and inviting restaurant – not to mention its surprising rooftop hot tubs.
The hotel's convenient location less than two miles from Calgary airport makes it an ideal choice for those with limited time in the city, whilst the thoughtful amenities mean that you can really optimise your time in town.
Enjoy a freshly cooked breakfast, soak in the view from the enticingly entitled Skydeck, or imbibe the atmosphere alongside a cocktail or two in the hotel's bar 'Tonic'.
The spacious guestrooms feature Aurora Perfect Sleep King Beds, a 47-inch LED TV with premium movie channels, clock radios with Bluetooth compatibility as well as a large work desk so you can work and play in comfort and style.
10. The ultimate in cool modern luxury – a stunning holiday apartment with sweeping views from sprawling rooftop patio
Floor to ceiling windows greet you as you step inside this ultra-cool holiday apartment located right in the heart of Calgary.
Finished to a spectacularly high standard and boasting some of the best views of the city, this characterful apartment offers the ideal base from which to explore Calgary; relax and unwind, making the most of having the whole place to yourself; or socialise over a game of pool with your very own pool table.
The apartment boasts high-end amenities, including a flat-screen TV and state-of-the-art cooking facilities, so you can really feel at home in this stylish, contemporary holiday home.
11. Quirky Downtown Calgary Center Condo with a cool balcony offering spectacular views; colourful, chic décor and free parking
This breathtaking condo mixes a vibrant colour scheme with a spacious and uniquely decorated balcony with a cool, industrial-chic feel overlooking Calgary's skyscrapers.
With access to the many on-site sporting facilities – including a fully-equipped gym and squash court – it's easy to keep your fitness routines whilst staying in this bright and welcoming holiday apartment.
Head out for a day of exploring the many local sights within easy reach of the property, before retiring to the privacy of this cool and unusual apartment – perhaps with a bottle of red out on the balcony to really compliment that picturesque view…
12. The perfect Boho retreat – boasts a secluded location and a host of amenities perfect for couples, families, or simply those looking for escape
This gorgeous boho Calgary retreat is characterised by its quirky colour scheme and quirky, personal finishing touches.
Imbibe the laid-back atmosphere, or get that heart rate up with a few hoops of basketball on the outdoor court or a game of Foosball before rewarding yourself with a delicious homecooked meal prepared in the privacy of your own kitchen.
In every room of the house you will find a carefully chosen selection of chic and trendy, yet elegant furnishings, whilst the beautiful wooden floor polished to a high shine lends an air of luxury.
High quality artworks adorn the walls whilst stylish accenting cushions and rugs set off the homely, inviting interior. This truly is the ideal place for those looking to feel at home, while not at home.
Scott Balaam – writer and photographer
Scott started his travelling life back in 1999, when he headed off on a solo jaunt to South Africa, Australia, New Zealand and South East Asia with just a backpack, a camera and a spirit for adventure. After that, the travel bug bit hard and now he is always seeking to head off somewhere new. Over the years he has lived in Italy, Qatar, Australia, Ireland, UK and the USA but his spiritual home will always be Rome as this is the city which most satisfies his unrelenting thirst for culture, good food and great football. In his spare time Scott loves nothing better than to be behind the camera and also runs his own blog and Instagram page. He also counts Melbourne, the rest of Italy, Amsterdam, USA, Athens, Cape Town and Tel Aviv among his favourite places. Find Scott on Linkedin, Instagram, or Twitter.