When most people think of Sri Lanka, they probably think of the beach and tea. Of course, Sri Lanka does these very well but there's so much more to the country than people realise. Here are a few of my favourite picturesque places on this gorgeous island…
Tangalle
Tangalle is a big town in Hambantota District located in the Southern Province. Its beach is known to be a great surfer's beach due to the magnificent waves.
It is a typically picturesque place with long sandy shores, leaning palm trees and deep turquoise water. The Tangalle Bay Hotel (which is shaped like a cruise ship) also calls this beautiful corner of Sri Lanka home.
Nuwara Eliya
Upcountry begins with the pretty city of Nuwara Eliya overlooked by Pidurutalagala, the tallest mountain in Sri Lanka.
With its bustling market and numerous waterfalls it is the heart of the tea country and is considered the most important location for tea production in the country.
Adam's Peak
Adam's Peak, is a tall conical mountain located in central Sri Lanka. Many climb the mountain as part of a religious pilgrimage as it's believed to have Buddha's footprint on a rock formation near the summit. It is climbed in the early hours of the morning to arrive at dawn and see the sunrise.
At the top is a bell that you ring corresponding to how many times you have reached the summit.
Sigiriya
If you only have time to see one ancient site in the country, then I would personally choose the UNESCO world heritage site Sigiriya – it's a very beautiful and awe-inducing place to visit in Sri Lanka.
Built by an eccentric monarch in the 5th century, a giant pair of stone lion's paws still guards the staircase that leads to the summit, which was once occupied by a royal palace.
There are also well-preserved fresco's carved into the rock and the vast surrounding water gardens are also worth a visit.
Polonnaruwa
Eight hundred years ago, Polonnaruwa was the bustling second capital of Sri Lanka and a thriving commercial and religious hub. Today it's a site full of archaeological treasures where hundreds of ancient structures reside from tombs and temples to statues and stupas.
Look out for the incredible Brahmanic monuments built by the Cholas and the monumental ruins of the amazing garden-city, which dates back to the 12th century.
Tea country
You cannot visit Sri Lanka without exploring its beautiful tea plantations which seem endless and are often surrounded by an atmospheric mist.
For starters try the Ceylon Tea Trails which are a collection of four colonial tea plantation houses set in a gorgeous hill country, all offering impeccable service and fine cuisine. Also nearby are a network of walking and cycling trails which offer the perfect way of exploring.
Yala National Park
Situated in the Southeast part of the island in the semi-arid climate region is the most popular National Park in Sri Lanka. It also happens to be the most beautiful.
The park is known for its large variety of wild animals and is important for the conservation of Sri Lankan Elephants and aquatic birds.
The western part of Yala has the highest leopard concentration in the world and is worth a visit for this alone.
Kandy
This major city located in the Central Province easily makes this list. It was the last capital of the ancient kings' era of Sri Lanka and today it's a important place to visit. Located in a valley surrounded by a huge lake it's always a joy to wander around.
The main attraction is the Temple of the Tooth which houses the sacred relic of Buddha's tooth. It is a very spiritual place, even if you are not religious.
The Hill Club
Situated on 26 acres of land at the base of a wooded hillside, the Hill Club looks over the town of Nuwara Eliya. It's a leftover relic from the colonial era which history fans are bound to love.
It was founded in 1876 by a group of British coffee planters as a private club for gentlemen. As well as 39 cozily appointed bedrooms they also have a lady's lounge, a billiards room, bars and an elegant dining area.
Arugam Bay
thesurfatlas
The beautiful Arugam Bay is situated on the East coast of Sri Lanka, but it belongs to the Tamil community in the Northern province. The bay is famous for surfing and provides a variety of surfing courses.
Beira Lake
The Beira Lake is located in the heart of Colombo city. It covers an area of around 3 square kilometers with a circumference of 5 kilometers and is the largest freshwater lake in Colombo.
Bentota River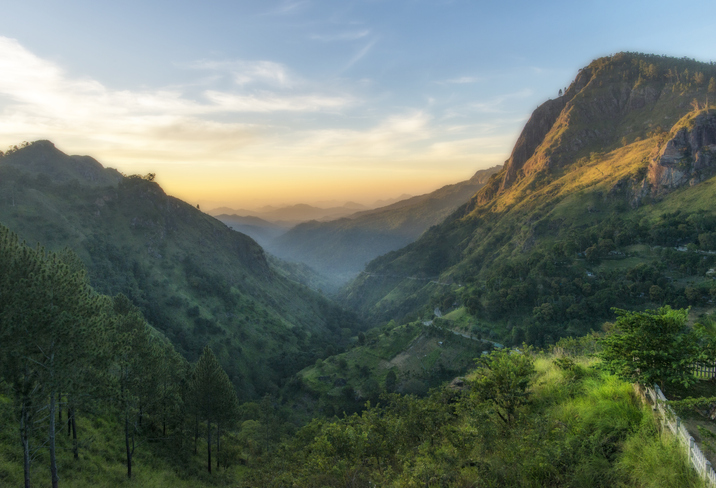 riu
The Bentota River runs along the side of the Bentota beach, making it a beautiful place to visit as well as offering an ideal spot for swimming and rafting.
Ella Located on the Western Province, Ella is famous for its breathtaking green scenery and waterfalls. It has become one of the most popular destinations in Sri Lanka due to the high level of tourists visiting each year.
I hope you enjoy visiting Sri Lank's most beautiful places for yourself!
We also have posts…
Ever since he was knee-high to a grasshopper Michael has always been a sucker for an adventure. Growing up he was lucky enough to live in a handful of exotic far flung locations including Hong Kong, Pakistan, Kenya and Tanzania and since then he's continued his taste for seeking out new cultures. So much in fact he now travels the world as a trading digital nomad, exploring everything from the sizzling street markets in Bangkok to random back alleys in Sri Lanka and everything in between! He also has a special fondness for Cohibas, street food, playing carrom, and fine wine and knows his clarets from his chiantis. He counts Cuba, Amsterdam, Indonesia, Cambodia and Italy as his favourite destinations.