Our friends Nick & Dariece are the fun Canadian couple behind the increasingly popular Goats on the Road travel blog. Living out their dream, they travel the world photographing the most interesting parts of their travelling along the way. Here's their photographic collection of the many faces of central Asia in BIG pictures…
Central Asia is an off-the-beaten-path region laced with ancient sites, natural beauty and fantastic people. Our journey took us from Kazakhstan to Kyrgyzstan, Tajikistan to Uzbekistan and finally, into the rarely visited (and extremely odd) country of Turkmenistan. As we ventured from one country to the next, not only did the landscapes change, but so did the faces of the people. Over the centuries, the people of Central Asia have been influenced by Turkey, China, Russia and Iran, which is why this region is such a wonderful melting pot of ethnicities and culture. This area covers a large portion of the famous Silk Road Route, which saw vendors coming from all over Asia.
We met many local people, all of which were warm and welcoming. We were shown into round felt homes (yurts), slept in numerous homestays, taught a 70-year-old the art of fly-fishing, and met with families who were living in a walnut grove during the harvest months. No matter who we met, or which country we were in, the people were always very intrigued and interested in us.
Cute children in Kyrgyzstan
Family living in a Walnut grove in Kyrgyzstan
Resting Afghan Men
A Tajik woman covers her face at the Afghanistan-Tajikistan cross border market

Harvest time in Tajikistan
Afgan Carpet vendor
A Kazakh vendor
An Afghan man looks on
A friendly family poses for the camera in Kyrgyzstan
A fisherman in Kyrgyzstan
A man wanders in Uzbekistan
An Afghan man looks on
We really enjoyed meeting all of the friendly faces you saw in these photos. The people of Central Asia are so generous and kind, and as photographers, we were happy that they loved having their picture taken!
For more information on travelling to this part of the world, check out The Ultimate Guide to Backpacking Kyrgyzstan and The Ultimate Guide to Backpacking Tajikistan.
Which photo is your favourite? Share with us below!
Author's Bio:
Nick and Dariece are the couple behind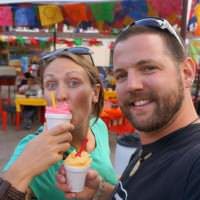 Goats On The Road, a website designed to show others how to turn their travels into a lifestyle. Masters at making money abroad, they've been on the road since 2008 and have explored some of the least visited places on earth. They're also full-time contributors at Credit Walk where they share their expertise of long-term travel. Follow them on Twitter, Facebook, Google+ and YouTube.